Javidi Honored By Optical Engineering Society
By Sherry Fisher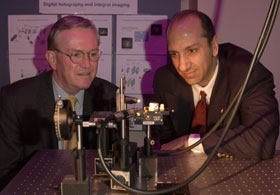 President Philip E. Austin, left, and Bahram Javidi, professor of electrical and computer engineering at Javidi's lab in the ITE Building.
Photo by Peter Morenus
Bahram Javidi, Board of Trustees Distinguished Professor of Electrical and Computer Engineering, has been named the 2005 recipient of the Dennis H. Gabor Award.
Javidi received the award from the International Society for Optical Engineering. It is presented annually in recognition of outstanding accomplishments in diffractive wavefront technologies, especially those that further the development of electro-optical systems (including information optics), holography, and metrology applications.
Javidi won the award for his contributions in the areas of optical information systems, electro-optical security systems, digital holographic systems, and three-dimensional display.
Named after the late physicist Dennis Gabor, winner of a Nobel Prize in 1971 for the invention of holography, the award is the highest honor and most prestigious prize of the society in this field.
Robert Magnusson, professor and head of electrical and computer engineering, said the honor "shines a bright light on the ECE department, the School of Engineering, and on our University."
Javidi's research includes using lasers or conventional light sources to photograph objects, which are then reconstructed and displayed as 3-D images. The data can be stored and manipulated for various applications, including image sensing and recognition. Three-dimensional imaging – which mimics human vision – may be an important tool for homeland security, medicine and the military.
Javidi is a fellow of the Institute of Electrical and Electronics Engineers (IEEE), the Optical Society of America, and the International Society for Optical Engineering.
Early in his career, the National Science Foundation named him a Presidential Young Investigator. He received the IEEE Lasers and Electro-optics Society Distinguished Lecturer Award in 2003 and 2004, and was recipient of the IEEE Best Journal Paper Award from IEEE Transactions on Vehicular Technology in 2002.
Author of several books, he has also published more than 180 technical articles in major journals and more than 220 conference proceedings. His papers have been cited 2,400 times according to the citation index of Web of Science.
---
Categories: Bahram Javidi, conventional light sources, Electrical & Computer Engineering, Electrical Engineering, Headline, IEEE, International Society for Optical Engineering, laser, National Science Foundation, three-dimensional imaging